5 Reasons Why MSP Is Good For Your Career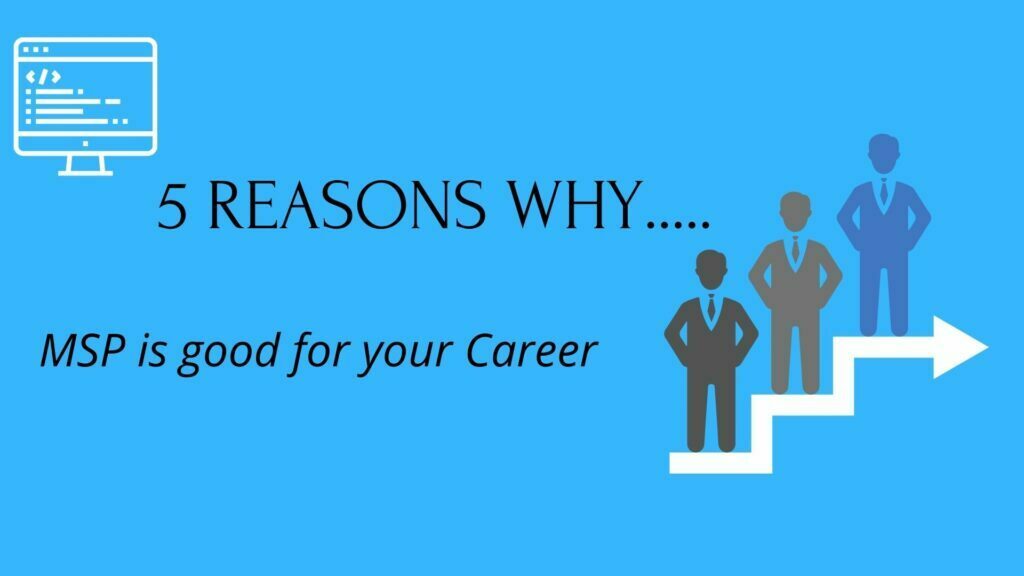 Managing Successful Programmes (MSP) is a framework to prepare you for this new world. The MSP Foundation 5th Edition is the first step in a two-step process to becoming an MSP expert.
Let's look at 5 reasons why MSP can give you that edge over your competition.
MSP is for the modern world
In an era of volatility like no other, project and programme management have taken a hit for the worse. Failure rates are high, and change is becoming significantly more difficult to implement successfully.
Uncertainty has increased, and in a cruel twist of fate – firms also want changes to be implemented faster. It is the definition of 'a double whammy': a perfect storm for programme failure to occur.
MSP is a framework that emphasises flexibility and adaptability. In the modern world, where situations change at the flick of a switch, the MSP methodology provides an effective way to deal with this volatility.
It splits projects up into increments and lays out a system to deal with each step of the change process in an agile manner – so projects can 'roll with the punches' as is required in a VUCA world.
A certificate in MSP is beneficial as employers will value you significantly more if you are able to understand and adapt to the changes in today's society. The MSP Foundation course gives you the tools to do precisely that.
Getting promoted with MSP
Are you a project manager looking to take the next step in your career?
Do you see programme management in your future?
Then MSP is an excellent option for you. This course is built for the ambitious amongst us – those who are looking to lead the largest and most prodigious projects in the industry.
If you are looking to go for a promotion, then MSP is a course to build your credibility and act as a signal to management and potential employers that you are taking your career seriously.
How many candidates say they are ambitious? All of them.
How many can actually prove it? Not many.
We can all say we want something – but proving that you want it can be a whole other matter. If you are looking to go for a promotion, prove to management at your current firm that you are ready to take this next step.
If you are looking for a new job in a more senior position, show your employers that you have the required skill set to succeed.
MSP is highly versatile
The versatility and applicability of MSP give it an advantage compared to other courses.
MSP can be applied anywhere and everywhere – regardless of an organisation's size, industry or location. Its applicability makes it ideal for the modern programme management industry, where employees are expected to move from project to project and pick up skills quickly.
Having MSP in your arsenal gives you the flexibility to switch projects when required and, as a result, makes you an invaluable part of the team.
Looking to move countries, switch companies, or change divisions? MSP is applicable to it all.
It's flexible. It's varied. It's relevant for public and private companies. Its sheer versatility makes it a no-brainer for those who value having options in their careers.
MSP is relevant
The MSP Foundation 5th Edition is effectively a brand-new course, freshly updated to bring it up to modern standards.
Its previous 4th edition was last updated in 2011. Now with the current edition undergoing a revamp in 2020, this course is up to date with the latest methodologies applicable to the current state of the world.
At Althris Training, our coaches and trainers are continuously learning and updating our course plans to make sure you always learn for the future not from the past.
Become an all-round manager
MSP is not only for project managers and programme managers. This course is relevant to business change managers, project delivery teams, as well as any members of the team who are part of the programme.
If you are looking to expand your knowledge, increasing your understanding of the MSP framework by taking the MSP Foundation exam is a great way to prove your importance to your team.
Become an all-rounder, invaluable, and a wealth of opportunities will start presenting themselves to you.
The bottom line
MSP is an excellent option for those who want to prove they are ready to take the next step in their careers. It is for those who have the ambition to go for that promotion, to lead the largest programmes, and even for those who simply want to expand their knowledge of different programme management frameworks.
If you are looking for a course that has been optimised for the modern world – for something relevant and brand new, you simply cannot go wrong with the MSP Foundation 5th edition.
Book an MSP Course with Althris Training Today at: https://althris.com/
If you need any assistance or have further MSP questions contact our experienced trainers or consultants at: [email protected]
We will be happy to help!